SEO Tips for Technical Communicators: Six Ways to Boost Sales and Decrease Costs
Search Engine Optimization (SEO) is the process of increasing traffic to a website by applying best practices that help display your website in organic search results for target keywords and phrases on search engines such as Google, Bing and Yahoo. The higher up on the page you land in organic (aka natural or non-paid) search results, the more likely people will click through to your website. Thus, the goal of optimizing a website for organic search is to increase website traffic that in turn convert visitors to customers. SEO has become very complex in recent years and the search engines continue to refine and evolve their algorithms in order to combat the so-called "black hat SEO strategies."
In November of 2015 I had the pleasure of presenting an hour-long educational webinar to the members of the Society for Technical Communication. The webinar was entitled "TechComm and Search Engine Optimization: A Powerful and Cost-Reducing Combination" and a recording is now available for playback at your convenience.
The "Five Pillars of SEO" Methodology
In this webinar, I introduced attendees to the "Five Pillars of SEO" methodology that I've developed over the years. It has helped many of our customers achieve a substantial ROI from their investments into digital marketing. In fact, the Google Analytics screenshot below shows that by increasing organic search traffic from Google by 36%, and by making this customer's website more conversion friendly, we were able to help them increase revenues from online sales by nearly 200% year-over-year: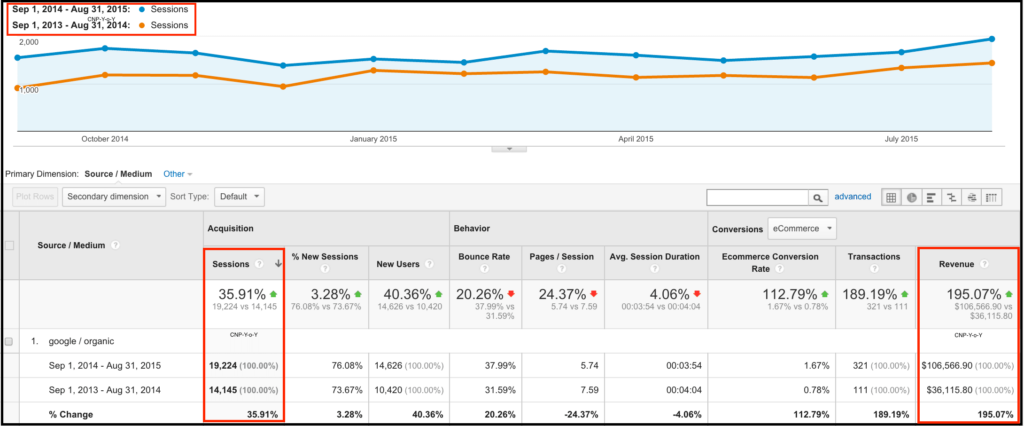 Search Engine Optimization is a Team Effort
Successful search engine optimization requires a strong team that reflects:
An SEO manager, who drives the process, assigns task to team members, analysis data, reports to management, etc.
Content creators, who can develop the highest possible quality content that is also optimized for organic search.
Social media experts, who can help promote content, attract new followers, and perform online community management.
A Webmaster, who can assist with web design and technical aspects of the overall SEO process.
Increase Sales and Reduce Costs
SEO can be applied to both inbound marketing, which means conducting online activities that draw customers to your site, and customer support. Since you most likely already provide product or service support content, applying SEO principles and best practices to it not only helps increase sales, but also decreases customer service calls that produce greater cost savings. Let's say that the average cost of a customer support call at your company costs $30. By reducing the monthly call volume by 500 calls, you could help save your company $15,000 on a monthly basis.
So how can you get involved in this process? I recommend you start by focusing on the following six areas:
Developing targeted marketing content
Delivering content in the right format
Reusing content in different formats
Incorporating keywords into your content
Creating searchable content
Creating help systems that are optimized for organic search
Let's discuss these options in a bit more detail:
1. Developing Targeted Marketing Content
Inbound marketing involves creating high quality content, applying SEO practices such as keyword research and promoting the content using social media. As a technical communicator, you have a wealth of knowledge about your product and / or services so you're crucial to content marketing.
Good marketing content is aimed at solving problems–it's not about selling. So start at the end: who is your audience? What kind of information do your customers need to know? What are the top customer support calls? What are some trends in your industry? Collaborate with your marketing team to see what content should be developed and how you can contribute.
2. Delivering Content in the Right Format for your Audience
In addition to thinking about what content to create, what formats are you using to deliver content and what are the best ways to reach your audience? Content can be delivered in many ways such as web pages, PDFs, eBooks, infographics, videos, help systems, social media postings and more. Again, get involved and collaborate with your marketing team to come up with the best way to present information.
I recently had an experience where a YouTube video was really helpful to learn how to replace my garage door backup battery. I looked up the model and manufacturer, and I searched initially on Google. To my surprise, the manufacturer didn't have useful information, or a short how-to video, on replacing a backup battery, but I found a YouTube video by a guy who had the same issue. So thanks to a YouTube video, and not the manufacturer, I was able to quickly replace my battery. The manufacturer lost an opportunity to help and impress me.
Google, YouTube, Facebook and LinkedIn are some of the most-used sites used to search for information. You can use all of these platforms and more to make content available so think outside the box and always keep your customer and end-user in mind: Where are they searching for what kind of content?
3. Reusing Content
Look at all the great content that you provide in manuals. It's probably not enough these days to keep this valuable information tucked away in a PDF that's stored on your website because customers don't want to spend time searching for information–they want and need quick results. Think about how you can bring this content to life in other ways like videos or interactive graphics. For example, in addition to writing a troubleshooting process in a manual, perhaps an infographic would make an impactful addition.
4. Incorporating Keywords
Your SEO manager should have a list of keywords and phrases that have been scientifically researched that you can use to incorporate into your inbound marketing content, website copy, meta tags and support content.
5. Creating Searchable Content
Here are some tips on how to create optimized content for your website:
Make sure that every web page has optimized meta tags. The title tag should be a short and precision description of what people can expect to read. Aim for 50 – 60 characters and make sure to include you main target SEO keyword for that page.
The description tag should contain 150 – 160 characters and provide additional information about the page. Try to include one or two target SEO keywords.
Although Google currently ignores the keywords tag, I'd still add 3-4 target keywords since other search engines still pay attention to this tag.
Make sure that all of the Alt / Images tags contain an applicable target keyword or phrase.
Blog posts should be at least 350 – 500 words long.
In-depth and evergreen content needs to be at least 1,000+ words long.
Press releases should be at least 350-450 words long.
Try to include one internal hyperlink per 100 words and include at least one high-quality external link to a relevant website.
Try to include keywords in H1, H2 and H3 headings.
If possible, include your most important keyword in the first paragraph and a variation of that keyword in the last paragraph.
Don't forget to include a call to action.
Bonus tip: If you publish MS Word and other source format docs in PDF format to your site, make sure to fill out the title, subject and keywords property fields before PDFing the doc; this will lends some additional "SEO-juice" to the documents:
6. Creating Help Systems Optimized for Search
Having a help system for support information where customers can easily access, search and download information on their own can dramatically reduce the costs of customer service calls. I had the pleasure of moderating an online event on this topic in which Chris Todd, Senior Manager of Global Knowledge Management at Yahoo, shared his strategy for providing self-supporting content for Yahoo's millions of customers each month across the globe in numerous languages. It's a win-win strategy and I invite you to watch the complimentary webinar here.
The Tip Of the Iceberg
After incorporating some or all of the ways I've outlined to get involved with SEO, you want to make sure to see the results of your efforts. Ask to see the metrics or be involved in meetings to learn more. There's so much more to search engine optimization and I encourage you to continue the education process. We offer a variety of SEO classes and workshops at our training facilities in Denver and Boulder and I'd be happy to answer any questions you may have.
About the Author
My name is Chris Raulf and I'm the founder of Boulder SEO Marketing, a boutique online marketing agency located in Boulder, Colorado. We assist local, national, and international clients with all of their search engine optimization, social media, and content marketing needs. I frequently author guest-articles for industry websites such as Social Media Examiner, and my international background make me one of the few professionals in the industry who truly live and breath international and multilingual search engine optimization on a daily basis. I enjoy speaking at industry conferences and my passion is to teach digital marketing so that other people can learn SEO too.