Professional SEO Training in Denver and Boulder
Learn Search Engine Optimization (SEO)
Our next two-day SEO and digital marketing certificate training has not been scheduled yet. Please send us an email if you'd like to learn about upcoming classes.
Alternatively, we invite you to register for one of your upcoming half-day or full-day workshops:
Tuesday, April 24, 2018, from1:00 pm – 5:00 pm MT: Half-day Search Engine Optimization Training in Boulder, Colorado
Tuesday, June 11, 2018, from 8:00 am – 4:00 pm MT: Full-day, Search Engine Optimization and Digital Marketing Workshop in Westminster, Colorado
Tuesday, October 16, 2018, from 8:00 am – 4:00 pm MT: Full-day, Search Engine Optimization and Digital Marketing Workshop in the Denver Tech Center, Colorado
[Learn SEO at Home or At Work] Our self-paced, non-technical, 7-hour online SEO training course may be a great fit for you if you can't attend one of our in-person workshops. 
Not sure if your website needs to be optimized for online search? Use our complimentary SEO site audit tool and receive an 8-page report with actional information.
Small Class Sizes = Individual Attention = Amazing Results
Attending our two-day, hands-on, SEO classes in Denver or Boulder, Colorado will enable you and your team to deploy our proven and tested "5 Pillars of Search Engine Optimization" methodology. Classes are limited to 12 attendees so that we're able to give you the attention you deserve. Our ultimate goal is to ensure that you'll learn the strategies and tactics needed to outsmart your competition in Google search results. In fact, after attending one of our programs and implementing our methodology, a student reported that she was able to increase organic search traffic from Google by over 100% in less than a year:
Another student reported that they were able to increase organic search traffic from Google by 36% year-over-year, and by making updates to their website, they were able to increase revenues from online sales by nearly 200%: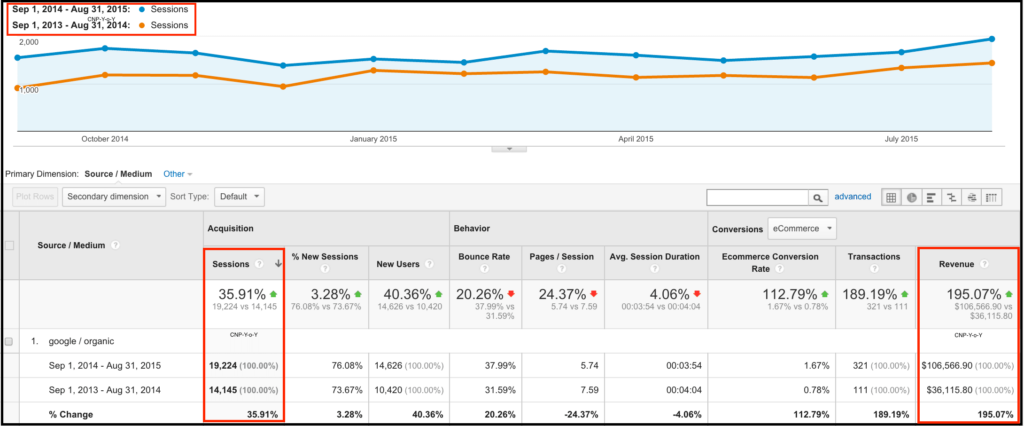 I'd love to promise that you'll see the same results, however, success really depends on many different factors and results may vary. SEO is an ongoing and ever changing process, but if you're willing to put the time, effort and resources into this project, then you should be able to see the result you're aiming for.
Hear What Class Attendees Are Saying About Our SEO Training
SEO Certification
After attending and actively participating in our SEO program, you'll receive a certificate of completion by achieving a score of 80% or above on the final assessment. The newly acquired knowledge will not only allow you to help boost your company's bottom line, you're also going to be a sought after digital marketing professional as demand and salaries continue to rise for SEO experts.
What to Expect And Who Should Attend This SEO Training
My name is Chris Raulf and I'm the Founder & President of Boulder SEO Marketing. Our SEO company is located in beautiful Denver and Boulder, Colorado and I love what I do. My team and I assist local, national and international clients with all of their digital marketing training and consulting needs. If you're a subscriber to Social Media Examiner, then you may have read one of my guest-articles for them before. Having become an SEO expert has completely changed my life. I now speak around the globe in front of hundreds of people and I get to meet some of the brightest and interesting business people. I truly enjoy teaching search engine optimization, and I'm also the first to admit that it's not for everyone. To be successful, you have to be passionate about this topic, open to embrace the methodology that I'll teach you and willing to spend the time to implement it.
You don't have to be highly technical to learn SEO. A bit of prior online marketing experience is pretty much all you need. This training it's a great fit if you'd give yourself a 3-7 out of 10 when it comes to digital marketing knowledge. If you're a highly advanced online marketer, then this training is definitely not for you. I don't want to waste your time or money so please don't sign up if you'd give yourself an 8-10 out of 10. Feel free to email me if you're not sure.
Not interested in our two-day workshop or just getting started with SEO? We also offer half- and full-day SEO courses.
Upcoming Two-day SEO Certification Courses
The next two-day SEO certification training in Boulder, Colorado has not been scheduled yet. Please send us an email if you'd like to learn about upcoming workshops.
What Is Required To Attend The Workshop?
In order to participate in this training, you'll be asked to complete our standard SEO Onboarding Questionnaire. We'll use this document throughout the training and for the various group exercises. You don't need to have a technical background but it would be great if you have some familiarity with Google Analytics and potentially also with Google Search Console. I'd love for you to set up a Google Account prior to the workshop and it would be an added bonus if you have access to a Google AdWords account.  A Google AdWords account is not required, however, and we'll be glad to give you access to a training account if needed.
Finally, you'll get a lot more out of this workshop if you have access to the Content Management System of your website (i.e, WordPress, Joomla etc.), but it's not a requirement.
SEO Training Agenda
Day One
8:00 am: Doors open at 8:00 am and we'll serve muffins, bagels, fruit, coffee and juice.
8:30 am: We'll start promptly at 8:30 am by introducing and getting to know each other.
Topics Covered During the Morning Session
Getting Started: SEO Onboarding Questionnaire
We'll pick one attendee's SEO Onboarding Questionnaire as an example and we'll use it through the training for demonstration purposes.
Introduction to Digital Marketing and the "5 Pillars of SEO" methodology
Introduction to Project Templates Used at Digital Marketing Agencies
The SEO Keyword Universe:
Initial keyword research exercise

Low-hanging fruit keyword research exercise
12:30 – 1:30 pm: Catered Working Lunch
Topics Covered During the Afternoon Session
Learn How to Audit and Assess the Performance of Your Website
An introduction to free and

paid

tools and technologies

Website health check

Website functionality and user experience
On-Page Search Engine Optimization
The Science of Keyword Mapping

Learn how to optimize every page of your website including: Meta Tags, Image Tags, Alt Tags, content optimization, hyperlinking, URL structure

Boost click-through-rates by creating the perfect snippet for each and every page on your website

An introduction to Schema.org and Google Mark-up: Learn how to create rich snippets without having to access the backend of your website
5:00 pm: Day One Recap and Q&A
5:30 pm: Happy Hour
Day Two
8:00 am – 8:30 am: Doors open at 8:00 am and we'll serve muffins, bagels, fruit, coffee and juice. We'll start promptly at 8:30 am.
Topics Covered During the Morning Session
SEO Writing and Content Marketing
Developing search engine optimized content

Content marketing strategy development

Content calendar development and maintenance
Off-Page Search Engine Optimization
Backlinks:

Learn how to evaluate and develop a winning backlinking strategy

Business and directory listings

Press releases for SEO

LinkedIn and SlideShare for SEO
12:30 – 1:30 pm: Catered Working Lunch
Topics Covered During the Afternoon Session
Deploying Social Media Marketing for SEO
Intro to social media marketing and SEO

Developing a social media strategy that will support your overall SEO efforts

Content calendar development

Social media tools

Combining the forces of content marketing, SEO, and social media for online lead generation
Google AdWords and Pay-per-Click (PPC)
Fundamentals: What is PPC and what are some of the core benefits
Search Marketing and SEO: Why they are better together
Basic Keyword Analysis and Search Campaign Set Up
Basics of AdWords Conversion Tracking: Setting up your first set of form and phone call conversions
Advanced AdWords Features: This section will elaborate on the more advance campaigns; such as, remarketing, Pre-Roll, and Gmail marketing
Questions & Answers
Course Conclusion and SEO Certification Quiz
International SEO Training (Optional)
4:15 pm – 5:00 pm: The international and multilingual SEO portion of the training is optional and available to those interested in learning how to properly optimize their translated websites.
The international search engine optimization training is also a great fit for language service providers and localization companies wanting to offer international and multilingual SEO services to their customers.
The training covers:
Using Google Analytics and Google Search Console for market research
There's more than Google: The "other" search engines
Technical ISEO considerations and best practices
The basic ISEO process
Multilingual keyword research
The multilingual keyword transcreationg and mapping process
Multilingual content marketing
Multilingual off-page and link earning best practices
Multilingual social media marketing
Audit and measure
Workshop Conclusion and Questions & Answers
My Guarantee to You
We take pride in offering some of the most comprehensive and effective SEO classes in the U.S. If for some reason you feel like you didn't get your money's worth after the workshop, please let me know why and I'll be happy to refund a portion or the entire registration fee.
Feel free to connect with me on LinkedIn and follow me on Twitter if you'd like If you'd like to learn a bit more about me.
Our Cancellation Policy
SEO classes are open to business professionals 18 years and over only. Our classes usually sell out way in advance and we often have a waitlist. If you need to cancel your registration for some reason and we can fill your seat, we'll happily refund you the full registration fee even the day before the training. If for some reason we're not able to fill your seat, the following cancellation policy applies:
You'll receive a full refund of your registration fee, minus a $100 processing fee, if you cancel your reservation at least 15 days within your scheduled workshop.

Cancellations within two weeks of your scheduled class date are non-refundable (unless we can fill your spot) but you are welcome to transfer your registration to another person in your company at any time. Please make sure to

let us know

.
Although we don't plan on cancelling or rescheduling trainings, we may have to cancel or combine the Boulder and Denver classes from time to time. We'd give you as much notice as possible though.
The following policy applies if we need to cancel a workshop:
We'll host the workshop if we have at least six participants and we'll let you know at least two weeks in advance if the training needs to cancelled, or combined with another location, for some reason.

You'll receive a full refund plus a 10% credit toward a future workshop should we cancel the training at least 15 days in advance.

You'll receive a full refund plus a 20% credit toward a future workshop should we cancel the training less than 15 days in advance.
By signing up for our classes, you are agreeing to the above cancellation policies.
Private Digital Marketing Training At Your or Our Office
Our SEO and digital marketing trainings are also available online worldwide or onsite at your office. Please send us a message and we'll be happy to provide you with additional information.