Online SEO Training Course
Learn SEO Today and Increase Organic Search Traffic From Google, Improve Keyword Rankings, Generate More Leads and Boost Sales From Your Website
Our next instructor-lead, web-based, 3 1/2-hour search engine optimization training is scheduled for Thursday, September 29, 2016 from 11:00 am – 2:30 pm MDT.
The beginner / intermediate training will be delivered via GoToWebinar and the early bird registration fee of $95.00 is available until September 15. The regular price is $125.00. Click here for additional information and to register.
---
 

Coming Soon: Self-paced Online SEO Training Course
Hi there, my name is Chris Raulf and I'm the Founder & President of Boulder SEO Marketing. I have long been teaching professional SEO classes at our training facilities here in Denver and Boulder, Colorado and I'm thrilled to be launching our online training class this spring.
If you are looking to outsmart your competition in Google search results then you've come to the right place. The self-paced online search engine optimization training will walk you, step-by-step, through our "5 Pillars of SEO" methodology and you'll be able to implement and execute a winning online marketing strategy as you move forward with the online training. You can view the course as many times as you want and we'll continue to update the content as search engine algorithms change. You'll even have the chance to receive your certificate of training by scoring 80% or higher on the final exam.
SEO Success –> Proof Is In The Pudding
After attending our workshops, students frequently report back to us that by implementing our methodology they started to see amazing results. In fact, one student reported that she was able to increase organic search traffic from Google by over 100% in less than a year:
Another student report that they were able to increase organic search traffic from Google by 36% year-over-year, and by making their website more conversion friendly, they were able to increase revenues from online sales by nearly 200% (yes, that's two hundred percent!):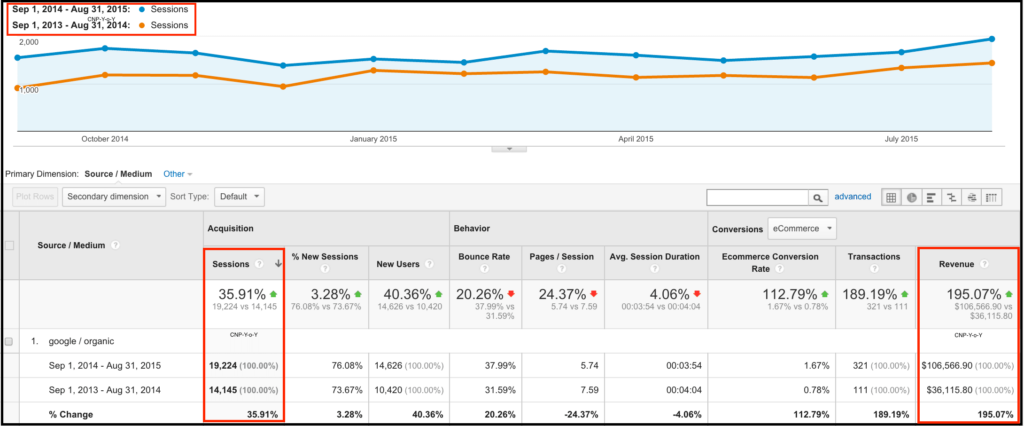 SEO Certification
As mentioned above, you'll receive a certificate of completion by achieving a score of 80% or above on the final assessment. Salaries continue to rise for SEO experts and your company will thank you for putting the newly acquired knowledge to work for them.
Do I Need Prior SEO Knowledge To Take The Course?
No. Since this is a self-paced training, you can view the content as many times as you'd like. A bit of prior online marketing experience is certainly helpful but not required. Just get started and have fun with it.
What Topics Does The Course Cover?
We'll first introduce you to today's digital marketing landscape and the "5 Pillars of SEO" methodology and we'll then walk you through the project templates used here at Boulder SEO Marketing. Search engine optimization has become a very process driven endeavour so we'll make sure to start you off on the right foot. As part of the course, you'll get online copies of the project templates.
The SEO Keyword Universe:
Initial keyword research exercise
Low-hanging fruit keyword research exercise
Learn How to Audit and Assess the Performance of Your Website
An introduction to free and paid tools to assist the process
Website health check
Website functionality and user experience
On-Page Search Engine Optimization
The Science of Keyword Mapping
Learn how to optimize every page of your website including: Meta Tags, Image Tags, Alt Tags, content optimization, hyperlinking, URL structure
Boost click-through-rates by creating the perfect snippet for each and every page on your website
An introduction to Schema.org and Google Mark-up: Learn how to create rich snippets without having to access the backend of your website
SEO Writing and Content Marketing
Developing search engine optimized content
Content marketing strategy development
Content calendar development and maintenance
Off-Page Search Engine Optimization
Backlinks:

Learn how to evaluate and develop a winning backlinking strategy

Business and directory listings
Press releases for SEO
LinkedIn and SlideShare for SEO
Deploying Social Media Marketing for SEO
Intro to social media marketing and SEO
Developing a social media strategy that will support your overall SEO efforts
Content calendar development
Social media tools
Combining the forces of content marketing, SEO, and social media for online lead generation
Bonus Content: International SEO
If your website has been translated or localized, then you also need to optimize your multilingual pages for search.
Final Assessment and SEO Certification
You're now ready to take the final exam. Score 80% or higher to receive our certificate of training.
Upcoming SEO Classes in Denver and Boulder
Not interested in online SEO training for now? We also offer a variety of in-person classes, including introductory, half-day, full-day and our flagship two-day digital marketing workshop.
Hear What People Are Saying About Our SEO Training
My Guarantee to You
I take pride in offering some of the most comprehensive and effective SEO classes in the U.S. If for some reason you feel like you didn't get your money's worth after attending one of our SEO courses, please let me know why and I'll be happy to refund a portion or the entire registration fee.
I also invite you to connect with me on LinkedIn and to follow me on Twitter if you'd like to learn a bit more about me.
Best,
Chris
Founder & President
Boulder SEO Marketing