Search Engine Optimization Packages: Everything You Need to Know
Search engine optimization (SEO) packages and services come in all form and shapes. Some are cheap, some seem affordable, and some appear to be out-right expensive. If you're not sure how much you should spend, what services you need, and what you should expect for your money, I hope that I'll be able to answer some questions in this article. You'll probably also learn a thing or two about SEO and digital marketing and I hope that it will help you to pick the services or package that's right for you.
We are a full-service digital marketing agency and we do offer SEO packages and services. Once you had a chance to read this article, please don't hesitate to reach out to schedule a complimentary consultation or to request a quote.
How do SEO packages work?
There are roughly 200-250 main ranking factors in Google's algorithm. The algorithm is basically a software script that matches web pages (or any other digital assets indexed in Google's database) against a keyword search. The better you're able to address each and every one of these rankings signals, the more likely it is that your website (or individual web pages) will rank high in the search engine results pages (SERPS). Addressing all, or most, of these ranking signals, and getting a website to rank high in Google search for a set of target SEO keywords takes time, resources and knowledge. While we do not ask our customers to sign lengthy contracts, we let them know that it will take usually anywhere from 2-4 months for us to be able to produce results.
Our team usually consists of an SEO manager who oversees the process and strategy development, provides the customer with bi-weekly or monthly reports, participates in customer meetings, etc. The team also consists of content marketers, social media specialists, and technical experts. I'll talk more about individual tasks below. However, all of these people are experts in what they bring to the table so offering their expertise as part of a package has a lot of benefits for the customer.
By signing up for an SEO package, you basically hire a pool of experts for a certain amount of hours per month. While hourly rates can vary greatly, many agencies in the US charge between $85 – $150 per hour for their services. Essentially, the more you pay for your package, the more service hours you can expect. Our small and local business packages start as low as $500 per month and larger companies will often spend between $3,000-5,000 per month. The average customer spends around $1,400 per month with us. Here are some questions you should get answered before hiring an agency:
Will you perform a site audit and provide me with the results and an action plan before starting work?

Can I rely on your for technical advice such as website development and updates?

Do you offer high-quality content development?

Will you perform keyword research and provide us with a monthly report?

Do you offer digital marketing and

SEO training

?

What's your expertise in our specific market and/or geographic region?
There are a lot more questions to ask and I recommend that you read Google's advice on how to hire a service provider.
What is a cheap SEO package?
I started my online marketing career way back when Google was still called BackRub and have since been involved in digital marketing, either on the customer-side or the agency-side. Google updates its algorithm 500+ times a year so this stuff changes ALL the time. As with most everything else, it simply takes time to become an expert in online marketing, so if you're tempted to "invest" in a cheap SEO package, I encourage you to think twice. You usually get what you pay for and you'll probably end up with an inexperienced freelancer or agency.
Many of these "cheap" service providers will apply "black hat" SEO strategies such as adding hidden text or links to pages, apply keyword stuffing, implementing sneaky redirects, etc. While some of these strategies may work in the short-term, your website will get caught by Google and the search giant may impose a penalty on your site. This could result in getting your site de-indexed from their database and your site won't show up in the search results anymore. A reputable SEO company will always adhere to Google's Webmaster Guidelines. You'll only want to work with staff who's highly qualified and they are usually not cheap.
We're known to offer affordable SEO packages at a fair price and many of our customers will stay with us for years to come because they see a solid return on investment. In fact, as you can see from the example below, we've helped this customer increase sales by nearly 200%, directly related to an increase in Google organic search traffic: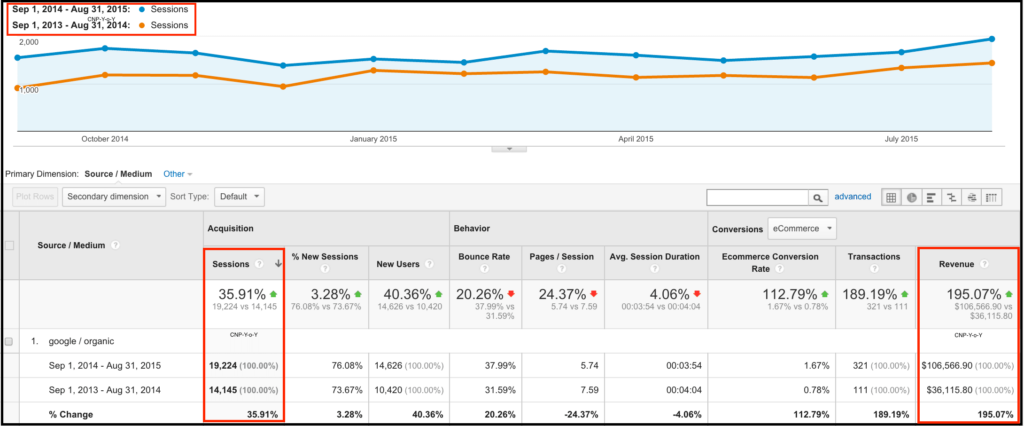 What services can I expect as part of the SEO package?
There's no magic switch and we frequently end up working with customers for at least 9-12 months. Depending on the customer's budget, we'll implement a digital marketing strategy which is based on the following main pillars. Many, if not all, of the roughly 200-250 main ranking factors in Google's algorithm can be categorized and placed onto one of these five pillars:

1. Auditing and addressing technical health issues of the website
2. Auditing and improving the functionality and user experience of the website
3. Implement on-page SEO and content marketing best practices
4. Implement off-page SEO best practices
5. If part of the package, implementing a meaningful social media marketing and influencer marketing strategy

SEO, social media marketing and content marketing are intimately interconnected nowadays and we usually recommend tackling all of these disciplines. This full-circle approach not only focuses on SEO but also supports a customer's social media presence and overall online engagement with their current and prospective customers.
Let's take a closer look at some of the most important tasks that need to be part of the SEO package.
Technical Website Audit
Auditing and addressing technical SEO issues will dramatically improve the visibility of a website in Google search. Our audits include but are not limited to:
Page Speed Analysis

URL Analysis

Images Analysis

Page Code Analysis

Social Media Analysis

Mobile-Friendliness Analysis

Page Link Analysis

Root Domain Link Analysis

Domain Analysis, including:

Domain length, age, and expiration

Preferred domain settings

IP redirects to your URL

HTTPS (SSL) check

robots.txt file check
In less than a minute, our complimentary website audit tool will provide you with a 10-page report. The report includes valuable and actionable information that will help you improve the visibility of your website on Google and other search engines.
What's Your SEO Score?
Enter the URL of any landing page or blog article and see how optimized it is for one keyword or phrase.
Website Functionality and User Experience Audit
Getting more search traffic to a website is one thing, but getting site visitors to take a certain action such as making a purchase, submitting a form, downloading a white paper, etc. is another thing. By using tools and technologies such as heatmapping we'll be able to make recommendations on how to make the website more "conversion" friendly.
On-page SEO and Content Marketing Best Practices
SEO Keyword Research
Keyword research is one of the most important tasks in order to implement a successful online marketing campaign. We'll identify new, or review existing keywords, and discuss with you the most applicable keywords that your target audience would use to find your site and/or products and services. Once we've identified and agreed on your target keywords, we'll implement these keywords on your site and throughout our internet marketing optimization efforts. I invite you to read this SEO keyword research guide for additional information.
Website Content Optimization
Content is king: The content of your website is extremely important for search engines as they consider your website's relevancy and importance based on both meta tags and content in relation to the important keywords.  Based on the agreed upon keyword list, we will help update and edit existing website content.
Meta Tag and Alt Tag Optimization
Meta tags are an important part of the code of your web pages. They include a concise summary of the web page content and include relevant keywords. The most important meta tags are the title, description, keywords and image/alt tags. Based on the agreed upon keyword list, we can help you update/optimize your website's title, description and keyword meta tags as well as other alt tags.
Internal Hyperlinking Optimization
Internal hyperlinks are essential for search engines to discover and crawl other pages on your website. They help users navigate your website and are crucial to spread link equity across your site. We will help you implement hyperlinks and optimize the hyperlinks with relevant target keywords, also know as anchor text.
Off-page SEO Best Practices
Quality Backlinks
Backlinks (also known as inbound links) are links from other websites that are directed toward your website. The number of backlinks is an indication of the popularity or importance of that website. Backlinks are important for SEO because Google and other search engines will give more credit to websites that have a high number of quality backlinks.
Optimized Business Listings
Creating optimized listings of your business on the major search engines and other high-profile sites, including industry-specific websites, is a highly effective SEO strategy and will lead to higher rankings in search engines for your target keywords.
Directory Listing
Adding your business information to relevant online directories will give you valuable backlinks to your website. Getting a link back to your site from a reputable online directory tells search engines that your site is "important" and ultimately supports your site to rank higher in general.
Optimized Press Releases
Press releases are one of the most effective ways to update a website with regular fresh content. Optimized press releases send traffic back to your website, get picked up by journalists and bloggers, get published in industry publications and are highly effective for SEO. Boulder SEO Marketing will assist with drafting, optimizing and distributing press releases.
Document Sharing Sites
Creating and posting optimized content to doc sharing sites such as SlideShare and Docstoc is a highly effective SEO strategy and can increase referral traffic to your site immediately.
Social Bookmarking
Social Bookmarking has become a popular SEO strategy and, if used in conjunction with other social signaling SEO strategies (i.e: Tweets, Facebook shares, LinkedIn group postings, etc.), can be an effective way to increase the overall popularity of your website in search engines.

Search Engine Marketing
Search Engine Marketing (SEM) or PPC campaigns can be a highly effective way to increase traffic to your site right away. There are a number of PPC options that may be a good fit for you (i.e.: Google AdWords, promoted tweets, LinkedIn Ads, etc.) and we'll be happy to discuss and explore these options with you.

Social Media Marketing
Social Media Marketing is an easy and effective way to connect and stay in touch with your target audiences. Our social media marketing services will consist of content strategy, channel strategy, and monitoring for social networks such as Facebook, LinkedIn, Google+, Twitter, YouTube/Video Creation, Snapchat, Pinterest, Instagram, etc.
Influencer Marketing Services
Industry thought leader reviews and recommendations on social media outlets are becoming more and more important for the purchasing and product evaluation decision process. Influencer marketing allows you to tap into industry thought leaders' social media networks and to generate new leads.
Conclusion
When was the last time you actually used the yellow pages? They have long been replaced by search engines and as competition for top online searches increases, we need to find new ways to get our name ahead of our competitors.

Our affordable search engine optimization packages offer a great way for you to get more leads and ultimately sales from your website.
Still not sure if you could benefit from a custom package? I invite you to reach out today so that I can answer any questions you may have.
About the Author
My name is Chris Raulf and I'm the founder of Boulder SEO Marketing, a boutique online marketing training and consulting agency located in beautiful Denver and Boulder, Colorado and London, UK. My team and I assist local, national and international clients with all of their digital marketing training and consulting needs. I have over two decades of hands-on experience under my belt and my international background has helped me become a globally recognized multilingual SEO expert. Feel free to reach out and connect with me on LinkedIn.