Thanks for Visiting Our Digital Marketing and SEO Company Online
Since 2009, our SEO agency has grown into a full-service digital marketing and training company.  We now assist local, national as well as international clients with all of their search engine optimization, pay-per-click, social media, content marketing, and training needs.
Online marketing is not rocket science but it takes expertise, resources and time to achieve the results you're looking for. We've helped numerous customers from all kinds of sectors to dramatically improve sales from their digital marketing efforts. As you can see from the Google Analytics screenshot below, this customer was able to improve sales, directly related to Google searches, by nearly 200% year-over-year: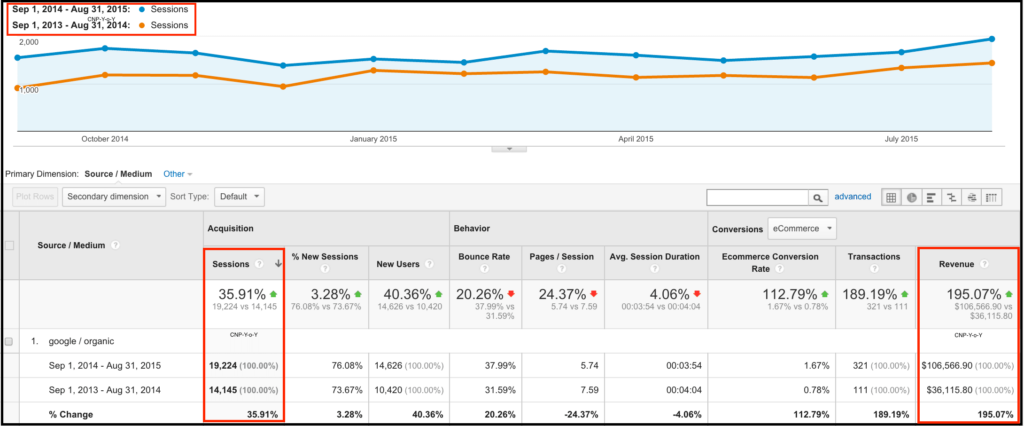 We offer a variety of affordable SEO packages and if you're ready to make your website your best sales tool, then I invite you to reach out today and together we'll explore how we may be able to assist you.
Thank You For Giving Us A 5-Star Rating
We work hard on being able to offer some of the best and most effective digital marketing and SEO services available out there. Many of our customers have left a review about our services and we're proud and thankful for our 5-star rating. Thank you!
A Word From Our Founder and President
My name is Chris Raulf and I'm the Founder & President of Boulder SEO Marketing. I started our search engine optimization agency back in January of 2009 right here in Boulder, Colorado, with the goal of providing local businesses with affordable, effective and sales-boosting digital marketing services.
I enjoy writing guest-articles for industry websites such as Social Media Examiner and the Online Marketing Institute and I'm lucky enough that I've become a sought after industry speaker who gets to travel worldwide and to speak about what I'm truly passionate about. Learn more about me by connecting with me on LinkedIn and by following me on Twitter.
We get a thrill out of working with ambitious small and medium sized companies in order to help them increase sales, grow their business, establish a strong brand, and to gain market share. We believe that any company with a good product or service can thrive in today's economy by implementing the proper digital marketing tools and initiatives.
Are You a Good Candidate for Search Engine Optimization Services?
Our complimentary website audit tool will give you a quick snapshot of your website's overall performance. Just enter the URL of your website and see how optimized it is for one of your target keywords or phrases:
What's Your SEO Score?
Enter the URL of any landing page or blog article and see how optimized it is for one keyword or phrase.
Boulder SEO Marketing
4845 Pearl East Circle #101
Boulder, Colorado 80301
Phone: 720-263-1736
Fax: 303-447-6853
Boulder SEO Marketing
50 S Steele St #250
Denver, CO 80209
Phone: 720-263-1736
Fax: 303-447-6853
Boulder SEO Marketing
Suite 2, 5 Percy St
Fitzrovia, London W1T 1DG
United Kingdom
Phone: +44 20 8068 6805
We're proud to have been named a top SEO agency by DesignRush.