Two-day Search Engine Optimization Certification Classes Offered in Denver and Boulder, Colorado
Do you have a pretty good understanding of search engine optimization (SEO) but are interested in advancing your knowledge to really make a difference for your business?
Our two-day, hands-on, SEO training may be a great fit for you! You will learn the entire methodology that has helped many of our students and customers boost sales from their online marketing activities.
Two-day SEO Certification Training
In our new two-day SEO certification training classes offered in both Denver and Boulder, Colorado, we'll help you learn how to create a powerful SEO plan to increase brand awareness, gain a competitive advantage, and ultimately increase sales. You can begin implementing our methodology the day you return to work. Leave our class energized and ready to put what you've learned into action!
Implementing SEO best practices takes time to see results, but if you keep after it, you will see improvements. One of our students implemented our methodology and she reported that she was able to increase organic search traffic from Google by over 100% in less than a year.
Another one of our students was able to increase revenues from online sales, year-over-year, by nearly 200%, directly related to an increase in organic search traffic from Google.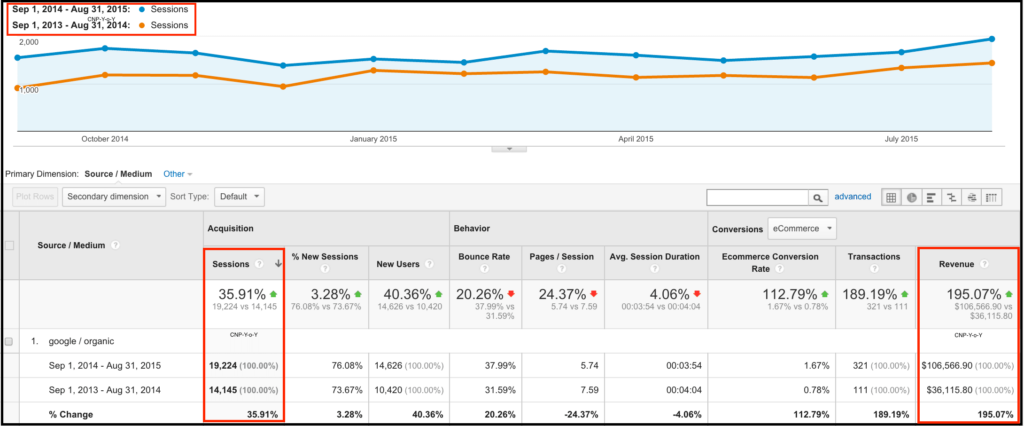 Upcoming SEO Classes in Denver and Boulder
Our two-day SEO workshops are held on a regular basis. Learn more about upcoming classes by visiting: www.boulderseomarketing.com/seo-training.
About the Training
Attending the training will enable you to implement our proven and tested "5 Pillars of Search Engine Optimization" methodology. Our classes are small so you can get individual attention and network with each other. The classes are quite interactive and engaging and our goal is to ensure that you'll learn the strategies and tactics needed to outsmart your competition in Google search results.
At the end of the class, you'll take a short quiz in order to receive a certification of completion. Not only can you use your knowledge to help your company's business, but digital marketing professional positions are becoming more and more in demand.  
We'll cover a broad range of topics, including:
5 pillars of SEO methodology

Project templates used at an agency

In-depth SEO keyword research

SEO site audit

On-page SEO

SEO writing and content marketing

Off-page SEO

Social media marketing
Access to Online SEO Training
Workshop attendees also receive complimentary access to our self-paced, non-technical, online SEO training. This will allow students to recap the covered content again, step-by-step.
Sign Up Today
I invite you to email me if you have any questions and look forward to hopefully seeing you at training!
About the Instructor
My name is Chris Raulf and I'm the Founder & President of Boulder SEO Marketing. We're located in beautiful Denver and Boulder, Colorado and my team and I assist local, national and international customers with all of their digital marketing training and consulting needs. If you're a subscriber to Social Media Examiner, then you may have read one of my guest-articles for them before. Having become an SEO expert has completely changed my life. I now speak around the globe in front of hundreds of people and I get to meet some of the brightest and most interesting business people. I truly enjoy teaching search engine optimization, and I'm also the first to admit that it's not for everyone. To be successful, you have to be passionate about this topic, open to embrace the methodology that I'll teach you and willing to spend the time to implement it. I hope you're up for it!