SEO Packages and Services
Our affordable SEO packages will help you boost lead generation and sales from your website. Search engine optimization is not rocket-science but it takes knowledge, resources and time for a website to gain visibility on Google and other search engines.
Affordable SEO Packages that Work: Proof is in the Pudding
Starting at $1000 per month, our Bronze, Silver, Gold, Platinum or a custom search engine optimization package may be a great fit for your business. If you've been tempted to sign up with a low-cost, out-of-country or unknown, service provider, then think again. As with most things in life, you'll get what you pay for when it comes to search engine optimization. Many low-cost service providers will either outsource the work or even worse, deploy strategies that may work in the short-term but then potentially get your website penalized or delisted from Google. The below example shows how we helped one of our customers increase high-quality Google organic search traffic by 36% year-over-year, resulting in nearly 200% increase in sales: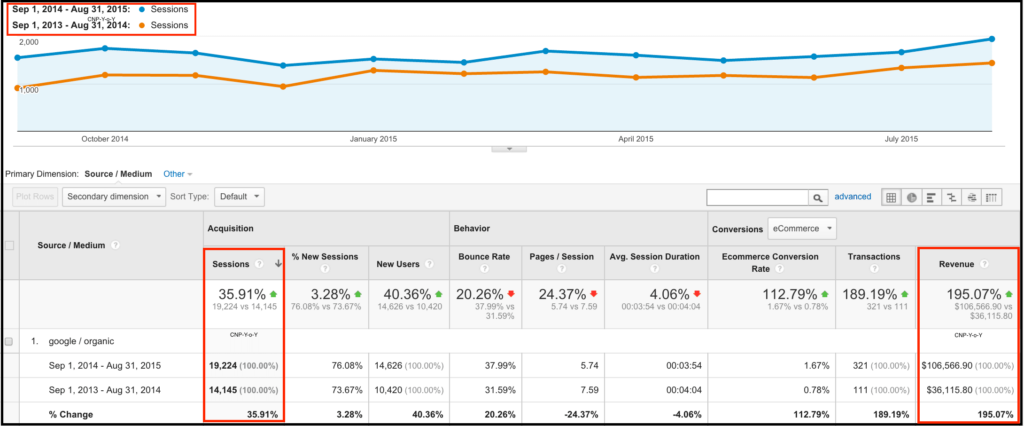 Why Should You Work with Us?
We only follow and deploy Google approved SEO best practices and we also share our entire methodology in online and in-person workshops in Denver and Boulder, Colorado.
Company founder Chris Raulf is a sought after industry expert who speaks about digital marketing worldwide and our company has been named a "Top 25 SEO Services Company Worldwide" and also a "Top 20 Denver SEO Company". We take pride in helping companies of all sizes and from all kinds of sectors to outrank their competitors on Google.
Are You a Good Candidate for SEO Services: Take the Test
Our complimentary website audit tool will give you a quick snapshot of your website's overall performance. Just enter the URL of your website and see how optimized it is for one of your target keywords or phrases:


What's Your SEO Score?
Enter the URL of any landing page or blog article and see how optimized it is for one keyword or phrase.
Every business and every website is a bit different and we'd love to discuss your specific needs in a complimentary 30-60 minutes discovery call; no strings attached. Our core services include:
Search Engine Optimization
Based on our initial conversation with you, we'll recommend the strategy that best fits your needs. Although, we can't guarantee that you'll rank number one for every single target keyword or key-phrase, we'll work hard to get you there.
SEO Services Include:
SEO Analysis
Keyword Research
Analytics
Quality Link Building
Local Search Marketing
Website Content Optimization
Meta and Alt / Image Tags Optimization
Hyperlinking Optimization
Social Bookmarking
Off-page optimization
And more
Search Engine Marketing and Pay-per-Click (PPC)
Search Engine Marketing (SEM), also referred to as paid search listings, is a form of online marketing that aims to promote websites by increasing their visibility in search engine result pages (SERPs) by paid placement, contextual advertising, and paid inclusion.
Our team of pay-per-click (PPC) experts will perform extensive keyword research, setting up your SEM campaign on Google, Bing, Yahoo!, as well as on social networks such as Twitter, LinkedIn, Facebook, etc. We'll actively monitor, evaluate, and make changes to your SEM and social media ad campaigns as needed in order for you to get the biggest return on investment.
Pay-per-Click Services Include:
PPC Management for Google, Bing, and Yahoo!, including search, display, image and retargeting ads
Social Media PPC Management for platforms such as Facebook, LinkedIn, and Twitter
Social Media Marketing
Social media networks such as Twitter, Facebook, LinkedIn, Pinterest, Instagram, etc. enable you to join the conversations your customers and prospective buyers already have on the web. Nearly 75% of the U.S. are online today and most of them turn to the internet to conduct research before making a buying decision.
Our team of social networking specialists can help you leverage the power of the internet to its fullest extent. We can create a custom strategy for you and help you tap into online tools such as search engine listings, blogs, and social media platforms that will get you a ton more exposure online.
Social Media Marketing Services Include:
Social Media Development
Social Media Calendar and Content
Recommend Keywords to Target for Positive SEO Impact
Social Media Set-Up
Social Media Maintenance
Reporting and Statistics
Brand and Online Reputation Management
Content Development
Content marketing is the art of communicating with your customers and prospects to distribute relevant and valuable content to attract, acquire, and engage to a clearly defined target audience – with the objective of driving profitable customer action.
High-quality content helps Google understand what your website and your business are all about. If you want to improve your website's ranking on any given search engine, you simply have to invest into creating relevant, high-quality and useful content. The content needs to provide people with information they are looking for and include relevant keywords and key-phrases your target audience may be typing into a search engine.
Content Development and Marketing Services Include:
Buyer-Persona Development
Content Strategy
Blog Posts
Articles
Case Studies
White Papers
And more
We're happy to discuss your specific needs in a complementary phone call, screen-sharing or in-person meeting so that we can recommend the services that are best suited for your business.